Bleach 350 Chapter | Bleach 350 Raw | Bleach 350 Manga Spoiler
source : BA
Status : CONFIRMED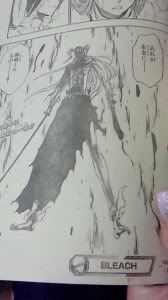 On the pic
Orihime : is that really Kurosaki-kun?
タイトル ザ・ラスト4 Title Lust 4
黒崎覚醒して、勢いで井上さん飛ばされちゃうけどね。
Ichigo 'awakens,' and the force throws Inoue back.
石田が助けるけど。
Ishida saves her.
also revised info posted before
>>470 ミス。
訂正
Revision
黒崎が 聞こえる 呼んでるんだ 立てよ 俺が
Ichigo: I can hear…calling. Stand up! I was
俺が護る
だった。
I was a protector/protecting.
女うんちゃらら~じゃなかった
It wasn't a woman's voice (not sure).
He mumbles he is hearing a woman's "what to do"?
Then, it starts from a collection of pics.
Pics of awakening Kurosaki.
Then it finishs with that.
Somehow, this chapter has very little conversation.
Ulquiorra: "That's impossible… This is obviously a cero! It even fires away the black cero… Possibly this cannot be.. No matter how close he is to a hollow, a human is to fire a cero…"
Ulquiorra get caught by Ichigo and his left arm is torn off.
The color page is Rangiku.
Ulquiorra is still alive even though he lost his arm.