Naruto 442 Spoiler | Naruto 442 raw spoiler
Source: OneManga
Confirmed
Translation : Nightjumper@nf
pics from ohana @ 2ch
SJ cover is of Naruto( and Sakura and Kakashi)
Spine is of Sasuke
There's a pullout: "10th Chronicle Book"[or something like that]
(You'll know the history of 10 years of Naruto if you look at it)
Two-page colored cover: Left half has young Konan, Orochimaru(Nagato) and Yahiko. Below that, is how they are of the current day. Right half is exactly the same, only with Naruto, Sasuke and Sakura instead.
Now, details of the color pages:
Everyone is standing around Sakura & Hinata. Sakura is healing Hinata. (Huge emphasis on Hinata's breasts. [Their size:] three cupfuls of rice.[or something like that])
Sakura is talking about how/why it came to be like this. Seems like she's thinking along the lines of "This is for Naruto's sake…"[OR "This is because Naruto…", I'm not sure.]
Gai: Let's go and back Naruto up!!
[Something about Katsuya telling Gai that'll they'll get in the way, and that Naruto left the village in their care, or something like that. Not sure]
[Long story, short, of Naruto VS Pain:]
Naruto does an attack with KB and Rasengan. Pain evades the attack. Naruto does decides to do a Tajuu KB, and have all of them throw debris at Pain, or something. Pain deflects them all, and kills every one of them except two. Pain tells Naruto to give up. Naruto fires up another FRS. Pain thinks he's safe at his range. Naruto tells Pain that he's given up… on giving up. And then some **** about a successful attack with KB and Rasengan.
Source: 2ch
Credits: Nja
Verification: Confirmed
カラーページで皆が周りをかこむ中サクラに治療をうけるヒナタ
(ヒナタの胸がすごい強調されていてこれだけで飯3杯は食える)
一同がなぜこんな事になったんだと話している中
サクラ (ナルトの為にこんな事を…)みたいな事思う
ガイがナルトを援護しに行くぞ!!といき込むが
カツユに足手まといなんでいくな的な事を言われ
ナルト君に考えがあるようなのでここはナルト君に任せましょうっていわれ
まぢで空気なガイ班
場面代わりナルトへ
風遁螺旋手裏剣を2発連続でうったナルト避けられないよう2人の影分身が
天道の足を掴もうとするが両手から棒を伸ばし2発めも避けてしまう。
(完全に仙人モードぎれ)
大量のガレキに変化していたナルト100人位が一斉に天道めがけて
攻撃を仕掛けるが時間切れで全員吹っ飛ばされてしまうが
残り3人で耐え螺旋丸を作り出す
天道 (あれは飛ばないこの距離なら大丈夫だ)
  答えを答えられない奴など…諦めろ!(微妙にセリフ忘れちった)
 ってナルトに叱咤するが
ナルト 俺が諦めるのを…諦めろ!
といいながら2人の影分身に投げられ本体が螺旋丸を天道に直撃させた所
で終了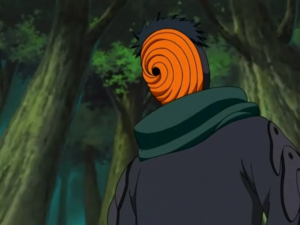 Trivia : Madara has stated that Akatsuki didn't have the power to destroy Konoha. However, Pain has been able to destroy most of the village, both buildings and personnel alike, meaning that Madara has yet to know of Pain's true strength
Fans also speculate that Madara could also be Danzo as many physical characteristics of Madara/Tobi and Danzo are similar. Tobi has bolts on the same arm that Danzo has covered up. They both share hair styles and have wrinkled faces. Danzo's right eye is covered by an eyepatch. Tobi's right eye is the eye that Tobi's mask reveals and is the same eye Madara has shown his Sharingan.
You can also download previous Naruto 441 chapter. or You can also read Naruto 443 spoiler
If you would like to discuss the spoilers or predictions, please leave a comment below.