In last chapter Luffy finally met with Blackbeard at Impel Down, so what happens next? Find the answers on One Piece [ワンピース] 544 spoiler! If you would like to discuss the spoilers or predictions please leave a comment below.
One Piece chapter 544 spoiler pics
New pictures from apforums.net:
————————-
Source: Himajin @ 2ch
Verification: confirmed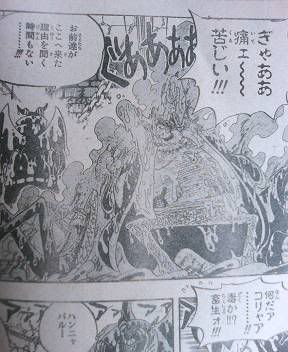 One Piece chapter 544 spoiler summaries
Source: Himajin @ 2ch (trusted source)
なんだっけ
ルフィが黒ひげにまだ敵わなくて(ジンベエが仲裁する)
シリュウが裏切ったのかどうか分からないけどモニター室の味方を斬って
黒ひげがマゼランと対峙して
黒ひげ毒食らう
ハンニャバルに「後を任せられるのはお前しかいない」と死亡フラグなのかどうなのか分からないマゼランさん
このバレありましたか?
English translation by Aohige_AP @ aptforums.net:
Let's see if I remember…
Luffy doesn't stand a chance against Blackbeard (Jinbei steps in to stop)
Not sure if Shiryuu switched sides, but he appears in the monitor room and slices up the men inside.
Blackbeard faces Magellan, and is poisoned.
Magellan says something to Hannyabal that sounds like a death-flag (of himself).
Magellan: You're the only one I can count on to look after Impel Down after me…
————————-
Source: oU27sPaG0 @ 2ch
Verification: pending
第544話 あの言葉
マリンフォード
海兵「王下七部海バーソローミュークマも見当たりません」
センゴク「まったく…」
シャボンディー諸島シャッキーバー
レイリー「来たか」
外に出るとクマ
レベル4
ルフィvs黒ひげ
ルフィの攻撃有効
黒ひげクローズで引き寄せてハイキック
ルフィダウン
ボンクレー黒ひげに攻撃
黒ひげ「なんだ?おめぇ」
ボンクレー「あちし?あちしは麦ちゃんのダチよ」
黒ひげ「おめぇから死ぬか?」
ボンクレー「あちし麦ちゃんのためならこの命惜しくないわよ」
黒ひげ「ゼハハハ。くせぇ。おめぇらといいエースといいくせぇんだよ」
ルフィ「何だと?」
黒ひげ「おめぇら下衆がくだらねぇ夢や希望をかたるんじゃねぇ。ゼハハハ」
ルフィ「あの言葉は嘘なのか?」
黒ひげ「何が?」
ルフィ「お前言っただろ。夢は終わらねぇって。人の夢は終わらねぇって言っただろ」
ルフィ覇気発動
黒ひげ微動だにせず。ドクQ馬から落ちる。他3人ガクブル
ラフィット「船長」
黒ひげ「ああ」
黒ひげが闇で仲間を包み下へ移動
去り際に
黒ひげ「すまねぇ。麦わら」
マリンフォード
エースの身柄が黄猿、ガープ、その他大勢の海軍へ引き渡される
エース「ジジィ。ルフィが。俺の弟がインペルダウンで。俺はいい。ルフィを助けてやってくれ」
ガープ「無理じゃ。わしは海軍。お前の弟は海賊じゃろ」
エース「くそったれ」
ガープ「しかし、お前はおとなしいのぉ。このまま死ぬんか?」
エース走馬灯で今まで思い出す
エース「フフフ。みっともねぇ。ちょっくらあがいてみるか」
エース覇気発動
黄猿、ガープ以外気絶
ガープ「ぶわっはっはっは」
黄猿「おぉ。危険だねぇ」
黄猿キック
レイリーが黄猿キック受け止める
レイリー「さて。この前の続きを始めようか?黄猿君」
おわり
————————-
Yami Yami no Mi [ヤミヤミの実 ] : According to Blackbeard, this fruit is "unique", even for a Logia type. It allows the user to transform into and control darkness. The darkness is a void that devours everything and crushes them, therefore allowing Teach to effectively manipulate gravity as well. The user can absorb physical matter and attacks of any type, either by sucking it into a dark mist which spreads from the user, or into the user's body itself, and then crush them with gravity forces (similar to a black hole) or regurgitate everything back out.