Danzou gave the order to kill Sasuke ..? what happens with naruto and sakura…? Find out the answer on Naruto [ナルト] 452 Spoiler at MangaSpoiler.com. You can also download previous Naruto 451 manga chapter. If you would like to discuss the spoilers or predictions, please leave a comment below.
Naruto ナルト 452 spoiler is out !!!. Download Naruto 452 Raw
Naruto ナルト 452 Picture Spoiler

Naruto ナルト 452 Spoiler
Credits: Nja @ 2ch
んじゃ簡単に
そんな事許せねえとダンゾウに文句言ってきてやる!とナルト
カカシがそんなことやめろと一応お偉いさん方で決めたものなんだ
下手したら牢屋にぶち込まれるぞ…とにかくツナデ様が目覚めるまで我慢するんだ。。。
ダンゾウへ
サイにナルトが馬鹿な事をしないか見張っておけと命令
理由は(今のナルトは英雄・自分より名声が高い為そんなのを罰したら
    里の民が暴動を起こさないとも考えられるため)
んで命令を受けたサイがナルト達に合流
ナルトがダンゾウってどんなやつか詳しく教えてくれとサイにいうが
ダンゾウは根の者すべてにベロに呪印を施し
秘密をしゃべった者は痺れて動けなくなるとサイが言い(まあしゃべったら死)
だから無理だと…
いきさつの知らないサイへ説明~
んでサスケ始末の許可をあいつが出しやがったんだ~
ってしゃべってるのを雲隠れの使者に聞かれ
戦闘に
サスケって奴がうちの師匠を拉致って~
お互い本気を出してないがサクラ吹っ飛ばされナルトもふっ飛ばしちゃう
くらいの実力者→黒い奴2人
なんでサスケがそんな事を~?
使者が 今は暁にいて雲隠れを襲って師匠をらちりやがったんだと聞き
みんな驚いた所で 完
背表紙はちっこい蛙 名前忘れたw
English Translation
quick sum up
Naruto says he won't allow that kind of crap and is going to complain to Danzo
Kakashi stops him, saying that the big wigs made the decision, play your hand poorly and you'll end up in the brig. Just hold out until Tsunade-sama wakes up.
To Danzo,
He orders Sai to keep an eye on Naruto and make sure he doesn't do anything stupid (the reason being that Naruto is the hero and has more fame than Danzo, if Danzo doesn't manage Naruto well, there would be an uprising by the villagers)
The thus ordered Sai returns to Naruto, Sai, Kakashi. Naruto asks Sai about Danzo, but Sai can't talk because all the Root members have their tongues sealed, if they spill any secrets, they will freeze up (in short, if they talk, they'll die), so Sai can't say anything
They explain to Sai who doesn't know the whole story, about Danzo giving the order to take out Sasuke
The Hidden in the Clouds guys here and spring into battle mode
Sasuke kid-napped our teacher
While neither group is going all out, the two "black" (sorry, that is what the Japanese says) ninja school Sakura and Naruto, that's how good they are
Why would Sasuke do that? (Naruto obviously asking)
The Hidden in the Clouds say that Sasuke is now in Akatsuki and he attacked their village and kid-napped their teacher. Everyone's jaw drops and the chapter ends
(on the binder is one of the small frogs, forgot his name)
————–
Another translation by Nightjumper
Naruto says that he won't allow this.[Danzou becoming Hokage]
Kakashi tells him off, saying that it's what the higher-ups have decided for the time being, if he's[naruto] is unlucky, he'll get thrown into jail[for opposing Danzou]… At least until Tsunade wakes up.
Scene change to Danzou
Danzou orders Sai to make sure Naruto doesn't do something stupid
The reason why, is because Naruto is a hero right now. He's more popular than Danzou. Punishing him[naruto] could lead to the people of the village revolting.
After receiving his orders, Sai goes to meet up with Naruto and the others.
Naruto asks Sai what Danzou's like,
Sai says he doesn't really know him, but Danzou donates curse marks/seals to all members of Root. Sai can't talk about classified info, because everyone who has, has fallen over unconscious.(Talking = Death)
Some prehistory on Sai
[Unsure]Then the guy who authorized taking care of Sasuke, comes out.
[Unsure]They hear the Cloud ninja talking.
"That Sasuke guy abducted our master(s)"
[Something about Naruto and Sakura not making a mutual effort, and either getting pissed off or brushing their worries off]
A dark influential person –> Two dark persons
"Why would Sasuke do something like that?"
[Something about the present time, Akatsuki, Kumogakure, an attack, and master being abducted]
Everyone is surprised by this
Spine is of some small frog, Nja forgot his name
————————-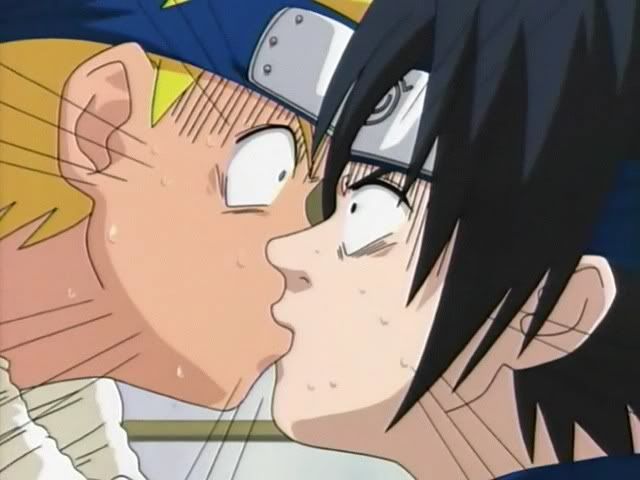 Trivia: Many rumors say, Sasuke is Gay ..?, When he was brought down by Haku, he was thinking of manly Naruto. He was even thinking of the time they KISSED. Now, maybe thats because he likes Naruto as best friend forever, but My guess is that he wouldn't be thinking of Kissing. —