Bleach 388 Spoiler : at the end of last chapter Ichigo arrives back in the living world, breaking through the fabric of space just behind Aizen. What do you think about it ..? Let's find out the answer on ブリーチ ネタバレ BLEACH 388 Spoiler at MangaSpoiler.com. Don't forget to leave a comment below, if you would like to discuss the spoiler and predictions.
BLEACH 388 Spoiler Picture
Source: toro @ 2ch
Verification: confirmed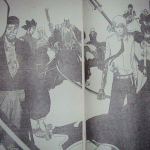 BLEACH 388 Spoiler Summaries
Credit
: Ohana @2ch
Verification
: confirmed
Translation
: nezzz @ BA
うんこ展開だわ。
イチゴ背後から愛染斬りかかるが、かわされる
イチゴ、ホロオ化するも全然かなわず
愛染の、挑発(演説)に乗りそうになるとこ
狛村が「呑まれるな 黒崎いちご
アイゼンの始解を見せわせん」
んで
ど~ん
ヒツガヤ、平子、オオマエダ、ソイ、リサ、狛、ラブ、ローズ
享楽
『俺達が てめえを護ってたたかってやる』
で終わり。
—
流れに笑った。
笑いをありがとう。
ギンが卍解するってアメリカサイトには書いてあったけど
蛇なのかな。
Short summary
Ohana says it is a rather crap chapter. It starts off with Ichigo coming out from the garganta and crossing swords with Aizen.
Ichigo changes into hollow form due to Aizen's provocation.
Komamura tells Ichigo not to fall for Aizen's tricks.
Hitsugaya, Hirako, Oomaeda, Soi Fon, Lisa, Komamura, Rose and Kyouraku say,
"We will fight and protect you."
The end.
Bleach 388 Trivia: Zangetsu has stated that he hates Ichigo's inner world as there is no greenery and vegetation, to which Ichigo states he will change that by planting trees. He also requests that cats and dogs be added as well. (In the manga, some greenery was seen there when Ichigo was recapturing his Shinigami powers, but as that world was then falling apart and no vegetation appeared in the corresponding anime episode, it is not known whether that was its natural state.)