Naruto 490 spoiler : The last chapter ends with Kabuto uses Summoning: Impure World Resurrection to form a barrier of five coffins, which open to reveal Nagato, Kakuzu, Deidara, Sasori and Itachi Uchiha ! so what happens next ? Let's find out the answer on Naruto ナルトネタバレ 第490話 Spoiler at MangaSpoiler.com. Don't forget to leave comment below, if you would like to discuss the spoiler and predictions. Please dont post troll and spam comment.. Thanks.
Naruto 490 Spoiler Picture
Credits : Raw-Paradise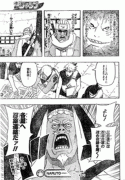 Naruto 490 Spoiler Summaries
Credits:
Ohana @2chan
Verification :
Confirmed
Translation :
On3word
マダラ『… 手を組みたいだと…
お前と組んでオレに何の得がある?』
カブト『近々戦争を起こすそうだね その戦力の提供しようって事さ』
カブトの提案の真意は…!?
490 九尾の真実!!
カブト『ここにある イタチ サソリ デイダラ カクズ そして…ナガト
どれも強者揃いだ… それに… ボクの持ってる駒はこれだけじゃない』
マダラ『見返りは?』
カブト『うちはサスケ  …』
マダラ『…  何を企んでる?』
カブト『…別に何も… ボクの興味は忍術の純粋な心理
その探求のためにはサスケくんが必要なだけ 生きた若くて繊細な
うちはの人間が欲しいイ』
マダラ『… …断ると言ったら?』
カブト『…』(口寄せ 穢土転生!!)
棺が1個出てくる
マダラ『…!?  こ…これは!!』
棺の中身は見えない
カブト『ボクが何の手札もなく君に会いにくるとでも? そおう… 君は断れない!』
マダラ『キサマ… それをどこで手に入れた!?』
カブト『色々とね… …安心していいよ これは誰にも喋ってない』
マダラ『…   フッ…フフフ…』
カブト『何かおかしいことでも?』
マダラ『薬師カブト お前がここまでの器になるとはな…思ってもみなかった
…今お前と揉めてもこちらの戦力が低下するだけ… この機を狙ってここへ来るとは…
用意周到な奴だ』
カブト『という事は?』
マダラ『いいだろう 手を組んでやる  …ただし
サスケを渡すのは戦争の成果を上げてからだ …それまでサスケには会わせない
それから監視も付けさせてもらう』
カブト『物分かりのいい方だ さすがは うちはマダラ… 器が違う』
マダラ『… 生意気な奴だ… …お前の持つ戦力を確認してから作戦を練り直す…
ついてこい』
カブト、意味ありげ??に口元が笑う。
マダラ後ろ向きながら、カブト確認
見えなかった棺が閉まる。
死体を見て
木の葉上忍A『こんな偏狭な地にわざわざ死体を…
倒れている忍の流れからして この先に何かあるのは間違いない』
木の葉上人B『罠では?』
木の葉上忍A『どうします?』
アンコ『トクマ! 2時の方向白眼だ』
トクマ『ハッ!』(白眼!!)
森の中を歩くカブト マダラ
トクマ『みたらし隊長 …これは』
アンコ『どうした?』
トクマ『カブトだけじゃない!…"暁"の仮面の男も一緒です!!
地下らしき入口に二人して入っていきます!』
アンコ『なんだと!?』
上忍A『って事はマダラと名乗っている"暁"の男… それもアジトか!?』
上忍B『そいつとカブトがなぜ一緒にいる?』
上忍A『手を組んだのか?』
アンコ『カブトはわざと私達をここへ導いたのか? マダラのアジトを知らせるため…』
上忍B『しかし奴らが手をくんだとしたら何故』
アンコ『今はわからない… とにかくすぐにこの事を里へ知らせる!』
フカサク『どうしたんなら!?はよ蔵入りの印を押せ!』
ナルト『…』
蔵蛙『不安なんじゃなナルト… …まあ無理もねーの』
フカサク『何なん?』
蔵蛙『フカサク様…九尾の力ゆーのは "九尾のチャクラ"と"九尾の意志"の二つが合わさって できとんじゃ
九尾の力をコントロールするゆー事は その九尾チャクラの方だけ引き出して
自分のチャクラに変えて己の力にする事なんじゃ
じゃあけどそう簡単なもんじゃねえ… 九尾のチャクラを引きだしたら九尾の意志もついて来る
九尾の意志ってのは憎しみの塊で 強い力でチャクラと結びついて来るんじゃ 
どんだけ自分を強く保っても 心のどこかにある憎しみと結びつこうとして心を乗っ取ってくる
つまりじゃ 九尾の力をコントロールするゆーんは九尾の意志と九尾のチャクラ…
この二つを憎しみのない強い意志で完璧に分離する事を言うんじゃ
四代目は九尾封印の檻から ほんの少し漏れ出すチャクラの上澄みがナルトのチャクラに自然とな るよう
封印式を組んどった じゃがこの鍵を使えば四象封印を開け 九尾のチャクラ全てを引き出せる… !』
フカサク『ほんなら… 九尾のチャクラ全てに九尾の意志が全てついてきて――』
蔵蛙『その九尾の意志にナルトの意志が負けた時点で――
九尾が完全に 復活する!!』
フカサク『… 今まで鍵を開けた事はあるんかいな?』
蔵蛙『実は四象封印が弱まりつつあって 修行中勝手に九尾化を始めたナルトを抑えるため
鍵を使って封印を閉めたんじゃが…
封印がゆるゆるでの… またいつ九尾化するかもわからなかった
そこでジライヤは わざと鍵で封印を ほんの少しの間開けてのう…
ナルトに九尾の意志に対抗する力をつけさせコントロールさせようとしたんじゃ…
ま…失敗じゃったけどな』
フカサク『それからはどうなったんじゃ?』
蔵蛙『うまくはいっとらん』
ナルト『…確かに昔 大蛇丸とやった時は自分から九尾の力に頼って自分の意志を預ける事になっ ちまった
サスケの事言われてカッとなっちまって… すぐにでも大蛇丸をやっつけたくてよ
そのせいでサクちゃん傷つけて…  ヤマト隊長は九尾のチャクラに頼るんじゃなくて自分の力で戦えって言っ た
人柱力抑えるヤマト隊長に見守られての修行ならともかく 戦いでは憎しみの気持ちが常について くっから
だからもう九尾の力はいらねエと思った
それに自分の意志で九尾の意志を抑え込むなんてできるわけねーと思ってたし…
けどヒナタがペインにやられた時も…憎くて くやしくて…使わねーどころか…
自分の心が勝手に九尾の意志と簡単につながっちまった
今は四代目に封印を組みなおしてもらったからまだ安心だけど またいつ暴走するか分からねエ…
…  だけど… サスケと戦うためにゃ九尾のチャクラが必要だ
結局オレは九尾の人柱力だ 本当はいつまでも逃げてらんねエ』
四代目(お前に九尾のチャクラを半分にして封印したのは この力を使いこなすと信じていたから だ…)
ナルト、印を押す
ナルト(うじうじしたって仕方ねーってばよ コントロール…キッチリやってやんぜ父ちゃん!)
蔵蛙『契約成立じゃ!蔵入りする!』
フカサク『さあまずはタコ探しじゃな!』
雲隠れ戦争会議。
ビー自前のライム帳開き(韻が踏めてねーな …なんかいいフレーズがねーものか…)
シー『敵の本陣…アジトが明でないかぎり奇襲効果を上げるのは難しくなると思います
そこでまず偵察隊を編成します   では――』
ビー(では…か… …濁点の部分を逆にして"てば"とかどうだ? さらにラップ風にノリを加え て
"てばヨー♪")
キサメ(これで雲隠れの大体の戦力は分かりましたね… 八尾がバカで助かりました…)
ビー(ダメだなこのフレーズは… 何かむかつくっ…てばヨー♪
やっぱ無いな)
シー『…とこのようにまとまります 雷影様…』
雷影『よし!三日後には忍連合軍の連合会議を開く!各里へ召集連絡だア!!』
タコ探し…の前に戦争勃発!?
終わり★サーセイ
ビーとナルト喧嘩から入りそうだね。
そして棺の中身は。。。マダラ?な気がしてならない。
カブトのニヤリ笑いが。。。
Madara: …you want to join forces?…What do I gain from teaming up with someone like you?
Kabuto: War is upon us. I offer you military strength.
What's the true motivation behind Kabuto's proposal…!?
490: The Truth of the Kyubi!!
Kabuto: Here is Itachi, Sasori, Deidara, Kakuzu, and…Nagato. A truly powerful group…Moreover…these aren't the only Koma* I possess.
[*TN: Koma is a Shogi piece]
Madara: What's the collateral?
Kabuto: Uchiha Sasuke…
Madara: …What are you plotting?
Kabuto: …Nothing really…My interest is purely in ninjitsu. For that purpose I will need Sasuke-kun. I want a live, young, fine Uchiha for this.
Madara: …And if I were to refuse?
Kabuto: … (Kuchiyose Edo Tensei!!)
One casket appears.
Madara: …!? Th..this is!!
You can't see the body inside the casket.
Kabuto: Do you think I would come here to meet you without a hand like this? That's right…you can't refuse!
Madara: You…where did you get that!?
Kabuto: It doesn't matter…don't worry though, I haven't told anyone else about this.
Madara: …Ha..haha….
Kabuto: Is something funny?
Madara Yakushi Kabuto, the vessel you've become…it's different than how I would've imagined it…Even if I disagree with you, my military power is only dropping…You took advantage of that and came here…you're a carefully strategic guy.
Kabuto: What are you saying?
Madara: Fine, I'll join forces with you….But, Sasuke won't be handed over until the results of the war have been decided…until then, you are not to meet with Sasuke. Also, I will have you guard and observe as well.
Kabuto: Such an understanding person. As I thought, Uchiha Madara…though the vessel is different.
Madara: …You're an impertinent one…you've shown your military power, now use that to devise a plan to work over…follow me.
Kabuto, what's the meaning of this?? From the shape of his mouth, it seems he's smiling.
Kabuto follows behind Madara.
The casket we were unable to see closes.
Looking at the dead bodies.
Konoha Jounin A: For all these corpses in a small, narrow space…this trail of fallen shinobi, there's no mistaking what's ahead.
Konoha Jounin B: And the trap?
Konoha Jounin A: What should we do?
Anko: Tokuma! Use your Byakugan 2 o' clock from here.
Tokuma: On it! (Byakugan!!)
Kabuto and Madara are walking in the middle of a forrest.
Tokuma: Captain Mitarashi…this is
Anko: What is it?
Tokuma: It's not just Kabuto!…Akatsuki's masked man is with him too!! The two just took an entrance underground!
Anko: What did you say!?
Jounin A: He's the one who's been going under the name of Madara in Akatsuki…Is this their hideout!?
Jounin B: Why the heck is he with Kabuto?
Jounin A: Have they joined forces?
Anko: Has Kabuto purposefully led us here? To reveal to us Madara's hideout…
Jounin B: But why, if they joined forces?
Anko: I don't know…Anyway, we must take this information to the village!
Fukasaku: What's wrong!? Press on the seal of the scroll!
Naruto: …
Scroll Frog: Are you afraid Naruto…well, this is pointless then.
Fukusaku: So what?
Scroll Frog: Fukusaku-sama…the Kyubi's strength — the Kyubi's chakra and will — it is possible to unite those. It's the power to control the Kyubi. In order to draw out the Kyubi's chakra, one must change his chakra to make it their own strength. But it's not that simple…by drawing his chakra, you draw out the Kyubi's will as well. The Kyubi's will is that of a hateful demon with tremendous power and chakra. And even if it guarantee's strength, the heart of it's wielder will soon be consumed by this hate. In short, to control the Kyubi, you must take both the will and the chakra of the Kyubi, and completely separate this hate from it's will and chakra.
From the 4th's seal, some chakra has already been able to leak naturally onto Naruto. So with this key, you can fully release the seal and draw on all of the Kyubi's chakra.
Fukusaku: If that's true…the Kyubi's chakra will consume everything in and with that, its will.
Scrol Frog: If Naruto's will loses to that of the Kyubi's, the Kyubi will restore itself completely.
Trivia : When Orochimaru used Summoning: Impure World Resurrection jutsu against Hiruzen, three coffins were summoned, but Hiruzen stops one of them. This third coffin is not seen in the manga, but in the anime it has "four" (四, Yon) written on it.