BLEACH 400 Spoiler : The last chapter ends with Gin uses the reach of his Bankai to his advantage but is surprised to have Ichigo block and even counter it. So what happens next ? Let's find out the answer on BLEACH ブリーチ ネタバレ 第400話 Spoiler at MangaSpoiler.com. Don't forget to leave comment below, if you would like to discuss the spoiler and predictions. Please dont post troll comment.. Thanks.
BLEACH 400 Spoiler Summaries

Credits : Nja
Verification : Confirmed
Translator : Sheetz @flol
すまそ…
えっと…13kmで笑われたんですが…
今度はたぶんなんですが
もうギンの能力だけの説明でいいですかね
ギンがパンと音を立てて手を叩く
ギン 届いたかな?
イチゴ … 
(たぶん音の伝わりの速度だとおもうんですが)
今の 500倍だ! 13kmを音速の500倍の速度で伸びる刀らしいです
最後にフルボッコの愛染さんが
ようやく崩玉の意思が私の意志をわかってくれたようだ
って崩玉と合体だか融合だかを匂わせた所で 完です
そそ剣先が相手に向けられた瞬間には死んでるみたいです
一撃めはイチゴの肩につきささり2撃めはなんとかかわします
ギン ああ〜まだまだ成長する…楽しみやわ〜って
感じで黒く笑ってました 市丸さんもぜんぜん本気じゃないっぽいですが
Gin makes a noise by clapping his hands.
Gin: Did it reach you?
Ichigo: …
(Maybe he's thinking about the speed the sound is transmitted.
It's now 500 times! Apparently his sword extends to 13km at 500 times the speed of sound.
At the end Aizen is powered up.
Finally he says, "The purpose of the hyougoku is to make known my will."
He then gives a clue regarding his fusion with the hyougoku.
So it appears the instant the sword is pointed towards the enemy he's dead.
The first attack pierces Ichigo in the shoulder, the 2nd one is somehow blocked.
Gin: Oh! It's still growing…This is fun!
I get the feeling that even with his dark smile Ichimaru is being quite serious.
Credits : Yagami1211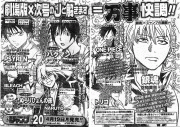 Next Issue..
裏原喜助登場!!一心と協力しての秘策とは!?
Urahara Kisuke arrives!! What is his secret plan in collaboration with Isshin ??
Trivia : Kamishini no Yari (神殺鎗, God-Killing Spear): In its Bankai state Gin's Zanpakutō retains its size but is capable of extending to lengths equivalent to 13 kilometers (roughly 8.1 miles).[60] The blade's tremendous cutting power and speed is significantly amplified to the point Gin is capable of swiftly bisecting a whole block of large buildings with a single stroke while standing a great distance away. The rate of the sword's extension seems to be almost instantaneous