One Piece 768 Spoilers: The last Chapter end with Doflamingo's ship is spotted by Tsuru. As the ships trade fire, Corazon passes away in the snow, and Law's cries finally have sound.…!! So what happens next..? find out story on One Piece 768 Spoiler 「ワンピース ネタバレ」 第768話 at Mangaspoiler.com. if you would like to discuss the Spoiler or prediction, please leave a comment below.
One Piece 768 Spoilers Pictures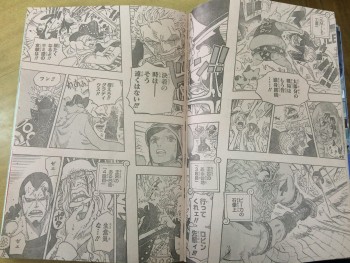 One Piece 768 Spoilers Summaries
Credits: Redon
– Back to the present. Law and Doflamingo fight. Law admits he's a "D" too.
​- Brief review of all it's happening in Dressrosa (Donquixote Family Vs Mugiwara Pirates/other pirates, dwarfs in Royal Palace…).
– In the end ​Law wounds Doflamingo's body by using "Injection Shot".
—
One Piece 768 Spoiler Trivia: X drake name is based on real life privateer Sir Francis Drake.